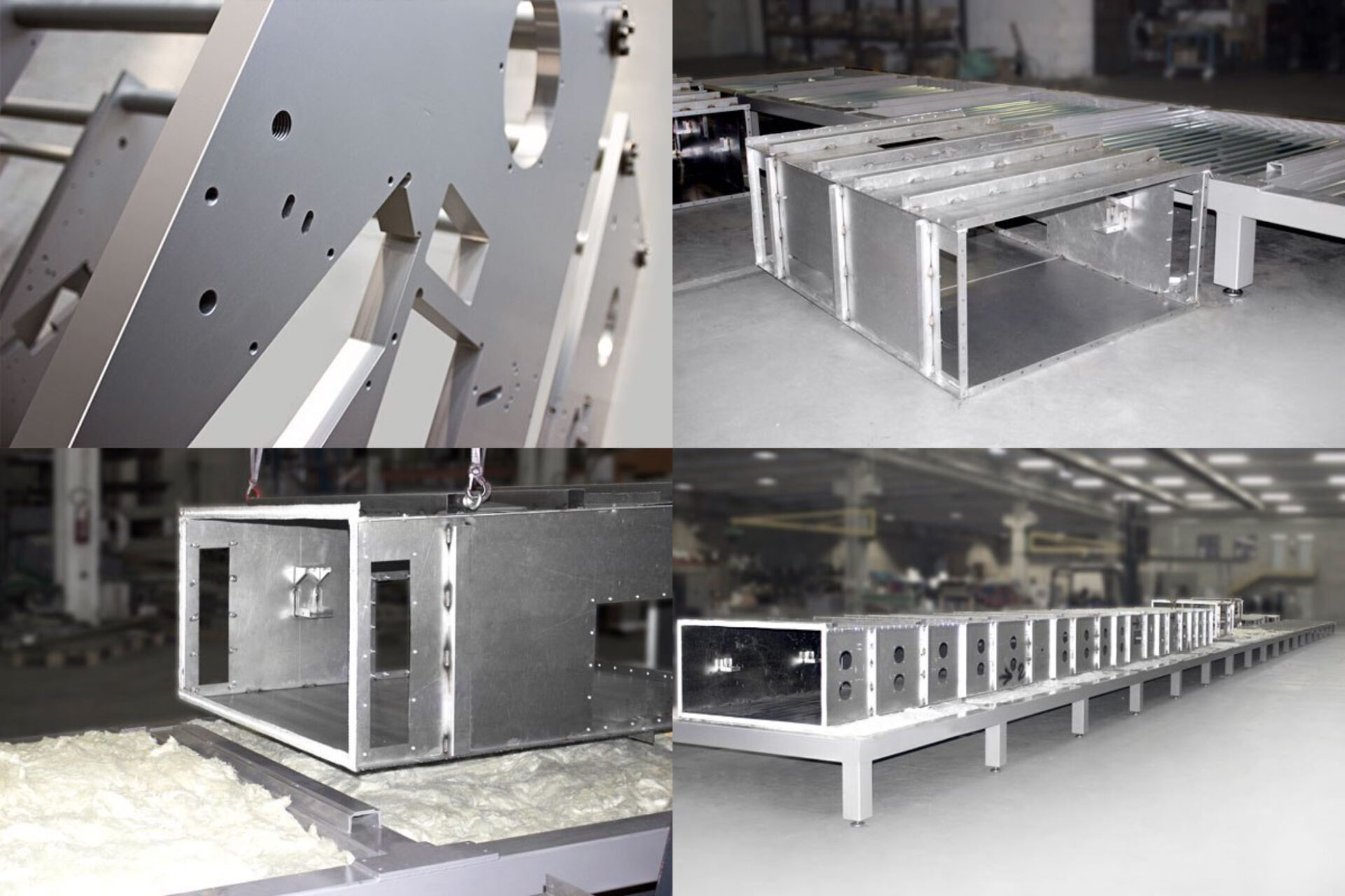 EVERYTHING STARTS
FROM A SOLID STRUCTURE
The hybrid oven consisting of a first zone of 12-meters direct gas oven and the other of 24-meters convection (12+12 meters), for a useful width of 1.2 meters.
The structures are prepared simultaneously.
And the final length of the oven is immediately evident.
DIRECT GAS
The direct gas oven is ideal for soft dough products, up to cracker cooking.
Combined with the convection oven it can be used to form hybrid solutions with various product types. The oven consists of baking chambers in modular carbon steel, with joints that compensate heat expansion. The chamber is externally insulated with rock wool and covered with panels coated with thermosetting powders. Located in the upper part (ceiling) and lower part (floor) of the cooking chamber, the direct flame burners have different positions and densities depending on the type of product to be cooked. Each burner is managed independently.
The direct gas oven is supplied with the combined spark control and safety system in compliance with international regulations.
The particular shape of the lamellar pack guarantees excellent flame stability even in combustion chambers with internal recirculation.
CONVECTION
Suitable for both soft pasta and crackers, the convection oven is a product that is widely appreciated for its flexible cooking.
It can also be used combined with other types of oven to offer a hybrid configuration.
Inside the oven, the hot air produced by the burner in contact with the product rises upwards, generating convective motions.
The heat is managed by two independent pressure chambers located above and below the conveyor belt.
The heat exchanger, combined with the air recirculation mechanism, allows a rapid response to temperature fluctuations within 1°C, eliminating thermal shocks and maximizing fuel efficiency.
The convection oven is supplied and delivered complete with an insulated corrosion resistant cooking chamber and an external module cover to facilitate installation and customization.
The 4-meter modules are made of high-temperature resistant steel; for total lengths up to 100 meters. For optimal cooking, each area is equipped with an independent control system.